Click here to look at President Trump's peace plan in January 2020
Click here to look at earlier maps (and events) over 4000 years of history for "Israel - Deep inside the plucky country".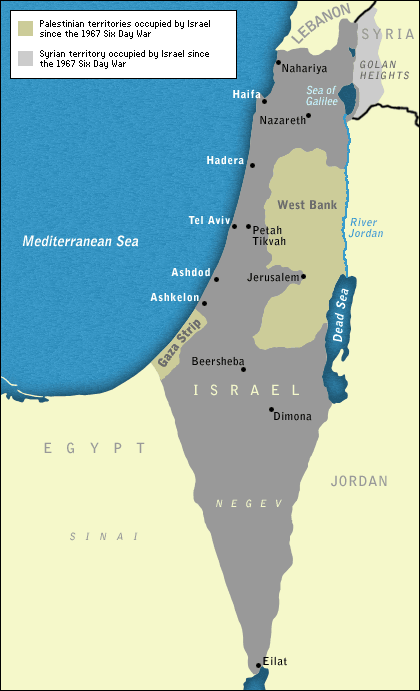 Click image for a larger map
Distances:
Tel Aviv to Jerusalem 63 kms
Tel Aviv to Haifa 95 kms
Source: Atlas of the Arab-Israeli Conflict, 7th edition — Sir Martin Gilbert;
Publisher: Routledge (Taylor & Francis), 2002;
ISBN: 0415281172 (paperback),
0415281164 (hardback); Map: NPR Online

Like diplomatic missions of nearly every other country, until 2018 the US Embassy had been in Tel Aviv, a result of the ambiguous legal status surrounding Jerusalem for more than a century. British forces captured the city from the Ottoman Turks during World War I and maintained control under a League of Nations mandate for 30 years. In November 1947, a United Nations plan terminated the British mandate for implementation at midnight May 14 1948, and partitioned Palestine into a Jewish state and an Arab state with Jerusalem to become an international zone. While accepted by the Jews, the proposed plan never was implemented as civil war erupted. The British organized their withdrawal and intervened only on an occasional basis. When a cease-fire ended the fighting in 1949, Israeli forces held Jerusalem's western precincts while Jordan occupied the city's eastern districts, including the old city with its holy sites such as the Church of the Holy Sepulchre, the al Aqsa Mosque and the Western Wall.
Click here for more details and to see a map of the UN's original proposal. The State of Israel increased their area by almost 60% of the area that had been allocated to the proposed Arab state. This included the Jaffa, Lydda and Ramle area, Galilee, some parts of the Negev, a wide strip along the Tel-Aviv to Jerusalem road, and some territories in the West Bank, placing them under military rule. With Jordan occupying the West Bank and the Egyptian military occupying Gaza, no state was created for the Palestinian Arabs.
Israel and Jordan soon annexed the portions of Jerusalem they held, with Israel in 1950 declaring the city as its capital, but this accordingly went unrecognized by other nations. In the 1967 Six-Day War, Israel captured East Jerusalem, along with the West Bank. Israel later annexed East Jerusalem and reunified the city, again an act that has gone unrecognized by the international community while Palestinian claims remain unresolved.
The US Embassy opened at its Jerusalem location on May 14, 2018, the 70th anniversary of the creation of the modern State of Israel.
On March 4, 2019, the US Consulate-General was formally integrated into the US Embassy in Jerusalem.
Background Extract: Six days and 40 years since Israel asserted itself
Abraham Rabinovich
June 05, 2007
FORTY years after the Six Day War, the consequences of Israel's extraordinary victory are yet to be sorted out. Israel was a tiny Middle Eastern backwater in 1967, with a population of 2.6 million surrounded by a hostile Arab world of 80 million. This disparity seemed to defy the natural order of things and it was a virtual consensus in the Arab world that the Jewish state would fall, sooner rather than later. In Israel itself, the enthusiasm and energy that marked the founding of the state out of the ashes of the Holocaust had been dimmed by the petty problems of getting by in a country with a massive defence burden and a lame economy.
It was the Soviet Union, for reasons never adequately clarified, that lit the fuse that would transform the region. In mid-May 1967, it declared that Israel was massing troops in the north in preparation for an attack on Syria. Israeli prime minister Levi Eshkol offered to personally tour the north with the Soviet ambassador to show it wasn't true. The ambassador declined.
There had been small-scale skirmishing between Israel and Syria over the headwaters of the Jordan and Israeli leaders had issued warnings, but there was no massing of troops. Egyptian president Gamal Abdel Nasser, the leading figure in the Arab world, felt impelled to come to Syria's aid by moving his divisions through the Sinai desert towards Israel. With a hostile army deploying on its border, Israel mobilised its reserves.
Nothing happened for more than two weeks. But mobilisation had paralysed the Israeli economy and Jerusalem had to either stand down or strike. On the morning of June 5, Israeli planes, flying low to avoid radar, suddenly rose into the Egyptian skies. Within three hours, the Egyptian air force was destroyed. Soon after, the Jordanian, Syrian and part of the Iraqi air forces were gone, too.
On the third day of the war, the West Bank and Jordanian Jerusalem fell. Syria's Golan Heights followed. The Arab world was stunned, Israel euphoric. The war catapulted Israel into a new era. Brimful of self-confidence and renewed energy, it attracted Jewish immigrants from the West and more than a million from the Soviet Union. Since 1967, Israel's population has tripled to 7.1 million (of whom 1.4 million are Israeli Arabs), its gross national product has grown by 630 per cent and per capita income has almost tripled to $21,000.
A major result of the Six Day War was to persuade the Arab world that Israel was too strong to be defeated. Internalising that view, Nasser's successor, Anwar Sadat, became in 1970 the first Arab leader to declare readiness to make peace with Israel if it withdrew from all territory it had captured in the Six Day War. Israel insisted, however, on territorial changes.
It took the 1973 Yom Kippur War to persuade Israel to withdraw from all Egyptian territory and for Egypt to agree to peace without insisting on Israel's withdrawal on other fronts as well.
The Oslo accords in 1993, marking the beginning of a dialogue between Israel and the Palestinians, also enabled Jordan to make peace with Israel without being accused of betraying the Palestinian cause.
In 2000, Syria announced its readiness for peace. Though negotiations with Damascus broke down, virtually the entire Arab world now accepted the legitimacy, or at least the existence, of the Jewish state in its midst.
But increasing radicalisation has brought to the Palestinian leadership a movement dedicated to Israel's destruction. If there is an answer for Israel, it lies, as in 1967, in bold and imaginative leadership — but this time on the political playing field.
Click here for the whole article.

West Bank Fence
Extract: Article by Amos Harel, Haaretz.com
July 14, 2009
Seven years after construction work began on the West Bank separation fence, the project seems to have run aground. Work has slowed significantly since September 2007. With fierce opposition coming from the United States, Israel has halted work on the "fingers" — enclaves east of the Green Line that were to have included large settlement blocs such as Ariel, Kedumim, Karnei Shomron and Ma'aleh Adumim, within the fence. The military has, in practice, closed up the holes that were to have led to these "fingers." But giant gaps remain in the southern part of the fence, particularly in the southern outskirts of Jerusalem, in the Etzion bloc and in the Judean Desert.
Since the cabinet under former prime minister Ariel Sharon first approved construction of the fence, in June 2002, the route has undergone some dramatic changes. The original route, which was inspired by Sharon, was to have effectively annexed about 20 percent of the territory of the West Bank to Israel.
In February 2005, the cabinet amended the route to include just nine percent of the West Bank. In April 2006 an additional one percent was shaved off by the government of Ehud Olmert.
In practice, however, the route encompasses only 4½ percent of West Bank land. The four "fingers" in the last map (and which Israel presented at Annapolis in November 2007) were never built, not at Ariel and Kedumim (where a "fingernail" was built, a short stretch of fence east of the homes of Ariel) — not at Karnei Shomron and Immanuel — not at Beit Arieh, nor south of that, at Ma'aleh Adumim. Instead, with little publicity, fences were put up to close the gaps closer to the Green Line, at Alfei Menashe instead of at Kedumim, at Elkana instead of Ariel and in the Rantis area instead of at Beit Arieh.
About 50,000 people in these settlements remain beyond the fence. West of Ma'aleh Adumim the wall built along Highway 1 blocks the gap in the barrier and leaves the city's 35,000 residents outside of the barrier, forcing them to pass through a Border Police checkpoint in order to reach Jerusalem.
Large gaps remain in the southern West Bank. Between Gilo in south Jerusalem and Gush Etzion are tens of kilometres of barrier, work on which was suspended due to High Court petitions. As a result access to Jerusalem from the direction of Bethlehem (now a part of the Palestinian Territories) is relatively easy — for commuters and terrorists both.
Click here for some news in Sep 2014.
A second, 30-kilometre gap in the fence, stretches from Metzudat Yehuda (Yatir) in the west to the Dead Sea in the east. The state announced during a recent High Court deliberation of a petition submitted by area Bedouin that work on the barrier there was suspended.
Defence Minister Ehud Barak is "determined to complete the security fence, despite the delays," his office said in a statement. "The minister and the military establishment are working to solve the problems delaying its completion."
Defence Ministry officials pointed out that Barak was "among the first supporters of the fence and did much to advance its construction."
Security officials claim the rate of construction depends on finding a solution to the legal issues and point out proudly that there is an unbroken barrier from Tirat Zvi in the Beit She'an Valley (in Northern Israel, just west of the Jordan River) to the southern entrance to Jerusalem, and from southern Gush Etzion (south west of Jerusalem) to Metzudat Yehuda (south east of Hebron).
Ma'ale Adumim and East Jerusalem
Click here for an article on East Jerusalem published by the Australia/Israel & Jewish Affairs Council (AIJAC) in mid 2011.
Unilateral Thinking in April 2006
Finally, after years in the planning, construction of an Israeli police station is under way in the now infamous E1 area, 12 square kilometers, a patch of empty West Bank land that stretches from the eastern municipal boundary of Jerusalem to the settlement-city of Ma'ale Adumim, which sits across the Jerusalem-Dead Sea highway some five kilometers (three miles) to the east.
Infamous, because every prime minister of Israel for the past decade has wanted to develop E1 in order to fill in the space between Ma'ale Adumim and Jerusalem, with the intention of securing Israel's hold over the settlement and its smaller satellite communities, which together constitute the Ma'ale Adumim settlement bloc. And every US administration up until now has nixed Israeli development here, on the grounds that it would seriously hamper Palestinian territorial contiguity between the north and south of the West Bank, as well as access from the West Bank to Jerusalem, thereby undermining the viability of a Palestinian state with East Jerusalem as its capital, the only realistic formula on the table for Israeli- Palestinian peace.
Click here for the full article
Updated photo December 1, 2012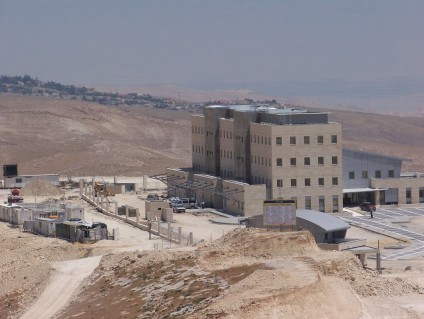 Gaza Strip
Israeli Gaza Strip Barrier
Wikipedia
The Israel and Egypt — Gaza Strip barrier is a separation barrier first constructed by Israel in 1994 between the Gaza Strip and Israel. An addition to the barrier was finished in 2005 to separate the Gaza Strip and Egypt. The fence runs along the entire land border of the Gaza Strip. It is made up of wire fencing with posts, sensors and buffer zones on lands bordering Israel, and concrete and steel walls on lands bordering Egypt.
Background: The Gaza Strip borders Egypt on the south-west and Israel on the south, east and north. It is about 41 kilometres long, and between 6 and 12 kilometres wide, with a population of about 1½ million people. The shape of the territory was defined by the 1949 Armistice Agreement following the creation of Israel in 1948 and the subsequent war between the Israeli and Arab armies. Under the armistice agreement, Egypt administered the Strip for 19 years, to 1967, when it was occupied by Israel in the 1967 Arab-Israeli War.
In 1993, Israel and the Palestinian Liberation Organisation signed the Oslo Accords establishing the Palestinian Authority with limited administrative control of the Palestinian territories. Pursuant to the Accords, Israel has continued to maintain control of the Gaza Strip's airspace, land borders and territorial waters. Israel started construction of the first 60 kilometres long barrier between the Gaza Strip and Israel in 1994, after the signing of the Oslo Accords. In the 1994 Interim Agreement on the West Bank and the Gaza Strip, it was agreed that "the security fence erected by Israel around the Gaza Strip shall remain in place and that the line demarcated by the fence, as shown on the map, shall be authoritative only for the purpose of the Agreement" (ie. the barrier does not constitute the border). The barrier was completed in 1996.
The barrier was largely torn down by Palestinians at the beginning of the Al-Aqsa Intifada in September 2000. The barrier was rebuilt between December 2000 and June 2001. A one-kilometre buffer zone was added, in addition to new high technology observation posts. Soldiers were also given new rules of engagement, which, according to Ha'aretz, allow soldiers to fire at anyone seen crawling there at night. Palestinians attempting to cross the barrier into Israel by stealth have been shot and killed.

Israel offers economic help to Palestinians, but not peace talks
The Australian
Thomas Grove, Wall Street Journal
Wednesday February 9 2022
Israel is rushing to prop up the Palestinian Authority, promising loans, allowing infrastructure upgrades and holding high-level talks with West Bank leaders for the first time in years, in a bid to stem the growing influence of Hamas and keep a lid on unrest. Together, the piecemeal initiatives amount to a new period of Palestinian engagement by an Israeli centrist coalition government attempting a reset on West Bank policies after a decade of frayed relations under former prime minister Benjamin Netanyahu.
Israeli Prime Minister Naftali Bennett has said the renewed dialogue isn't meant to lay a foundation for peace talks, which were last held in 2014. Rather, Israeli officials say the efforts are designed to ease severe economic pain in the West Bank and ensure the survival of the Palestinian Authority, which is unpopular with its constituents but provides essential ­security assistance to Israel.
Defence Minister Benny Gantz – who has met twice with PA President Mahmoud Abbas, once in the West Bank and another time at his home in Israel – said last week that Israel's security was at the heart of his meetings. "Ties with the Palestinian Authority strengthen the moderates and weaken our enemies, led by Hamas," he told the Knesset.
Israel sees a major threat in the growing West Bank popularity of Hamas, the militant group that rules the Gaza Strip and has been designated a terrorist organisation by the US and Israel. Polls show Palestinian support for Hamas has grown since a conflict last May with Israel because it struck the country's heartland with rockets, even though hundreds of Gazans died.
High-level discussions between Israeli officials and the PA hadn't occurred for more than a decade under Mr Netanyahu, who publicly threatened to annex West Bank territory for Israel. Israeli officials say there is an urgency to getting relations between Israeli government and Palestinian authorities back on track, particularly given the West Bank's dire economic situation and Hamas's gains.
On Sunday, Mr Abbas said his government was engaging with Israel to ease problems that had accumulated in recent years but wanted greater concessions from Israel. "This has not and will not be a substitute for our demands for a political solution in accordance with international resolutions to end the occupation," said Mr Abbas, speaking at a gathering of top Palestinian leaders.
The Palestinian engagement has drawn criticism from Mr Netanyahu's Likud party, which said the moves would compromise Israel's security. Others say the PA has delegitimised itself by paying money to the families of those who wind up in Israeli jails – payments the Palestinians say are a social safety net for families who have lost their breadwinners.
An important Israeli initiative for the West Bank has been the issue or renewal of several thousand identity cards for Palestinians. With military checkpoints dotting most major roads, Israeli-approved ID cards are essential for Palestinians to travel anywhere in the country.
Israel has permitted Palestinian cellular providers to upgrade their networks to 4G. It also promised a loan of 500m shekels ($AU220m) to make up for tax revenues Israel takes away from the PA for the money it gives the family members of those in Israeli jails.
The Israelis' posture is largely endorsed by the Biden administration, echoing parts of the Trump administration's focus on economic progress for Palestinians over a separate Arab state. A senior State Department official said longstanding US policy seeking a Palestinian state hadn't changed, "but as making progress towards that goal is difficult at this time, it is vital that we support tangible, practical steps toward improving Palestinian lives".
Neither Israelis nor Palestinians are eager for the resumption of US-led peace talks. Palestinians have lost hope that Washington's involvement helps their cause, while Israelis have preferred to address security concerns as they arise, a policy described as "mowing the grass", instead of addressing overarching political solutions.
For Israel, the initiatives are aimed at helping rein in West Bank discontent, which has boiled over with attacks on Israelis in Jerusalem as well as an uptick in armed confrontations between Israeli settlers and Palestinians.
"In the West Bank we have a real interest in the Palestinian Authority remaining the prominent power," said Michael Milshtein, of the Palestinian Studies Forum at Tel Aviv University. "We need to talk economics with the Palestinians because we need stability. But how long things remain stable without peace talks and addressing politics is a different question."
Polling shows the PA has regained considerable support after its popularity bottomed when corruption allegations, bad services and the issue of alleged security co-operation with Israel were compounded by its decision to cancel elections last April.
The West Bank hasn't held elections since 2006.
Shuttle diplomacy as Blinken visits Israel for Mid-East talks
The Australian
Paul Handley, AFP
Monday March 28 2022
Jerusalem: US Secretary of State Antony Blinken is in Israel for a "historic" meeting with Arab countries that have normalised relations with the Jewish state in the US-brokered Abraham Accords. Mr Blinken was to meet his counterparts from Israel, Morocco, Egypt, Bahrain and the United Arab Emirates in the Negev Desert on Sunday and Monday to mark the shift in Arab-Israeli relations that began in late 2020.
Israeli Foreign Minister Yair Lapid described it as a "historic summit".
Mr Blinken's visit, the first stop in a trip that will also take him to the West Bank, Algeria and Morocco – where he will hold talks with the UAE's de facto ruler, Abu Dhabi Crown Prince Mohammed bin Zayed – is focused in part on building support for Ukraine after the Russian invasion.
US officials say two other key issues are on the agenda for the trip: quelling the Jewish state's worries about a looming nuclear deal with Iran, and discussing the potential global wheat shortage caused by the Ukraine war that could deal a heavy blow to the import-dependent Middle East.
"We know this pain is keenly felt in the Middle East and North Africa, where most countries import at least half of their wheat", much of it from Ukraine, State Department Acting Assistant Secretary Yael Lempert said. The war "will only continue to increase the price of basic staples like bread in the region, taking money from the pockets of the hardest working and most vulnerable families," she said.
The trip comes as the US and Iran are in the final stages of negotiating a revival of the 2015 Joint Comprehensive Plan of Action, which aimed to prevent Tehran from developing a nuclear weapons capacity. The administration of former US president Donald Trump quit the deal unilaterally in 2018 and reimposed punishing economic sanctions, and Iran has since resumed many of its sensitive nuclear activities.
The conclusion of a renewed accord could come in a matter of "days", EU foreign policy chief Josep Borrell, who is co-ordinating talks with Tehran, said on Saturday. "We are very close but there are still some issues pending," Mr Borrell said. US officials say reaching a deal hinges on one or two key issues, but that Tehran has to make "difficult choices" if it wants an agreement.
But the possible deal worries Israel and US allies in the Gulf, who see Iran as a menace. Last month Israeli Prime Minister Naftali Bennett said he was "deeply troubled" by the prospect of a new nuclear deal, which Israel fears would not prevent Iran from developing a nuclear weapon.
Ahead of the talks, Mr Bennett sent a rare message to regional powerhouse Saudi Arabia, expressing "sorrow" over a wave of attacks by Iran-backed Yemeni rebels on Friday that hit targets including an oil plant near the Formula One race in Jeddah. "This attack is further proof that Iran's regional aggression knows no bounds," Mr Bennett tweeted.
Mr Blinken will also meet Palestinian Authority President Mahmud Abbas in Ramallah in the Israeli-occupied West Bank. Palestinians remain concerned that they are being forgotten in the US-backed push for Arab governments to boost relations with Israel and focus on Iran as their principal threat.
The Trump administration slashed support for the Palestinians and closed the US consulate in Jerusalem dedicated to Palestinian relations. Joe Biden promised to reopen the consulate, but a year into his administration that move has not come.
Israel-Arab summit 'a clear signal to arch enemy Iran'
The Australian
Paul Handley, AFP
Wednesday March 30 2022
US Secretary of State Antony Blinken and the top diplomats of Israel and four Arab states wrapped up a landmark meeting late on Monday vowing to boost co-operation, which Israel said would send a strong message to its arch foe Iran. The talks brought together for the first time on Israeli soil the foreign ministers of the United Arab Emirates, Bahrain and Morocco – which all normalised ties with the Jewish state in 2020 – and of Egypt, a country formally at peace with Israel since 1979.
Israel Foreign Minister Yair Lapid said that "this new architecture, the shared capabilities we are building, intimidates and deters our common enemies – first and foremost Iran and its proxies. "They certainly have something to fear," he said about Iran, a country Israel is fighting in a regional shadow war and which it accuses of seeking a nuclear bomb, a goal the Islamic republic denies pursuing.
UAE Foreign Minister Abdullah bin Zayed Al-Nahyan called the two-day gathering "historic" and said that "what we are trying to achieve here is changing the narrative, creating a different future".
Mr Blinken departed Israel and arrived on Tuesday in Morocco, where he will meet senior officials from the North African kingdom, as well as the UAE's de facto leader, Abu Dhabi Crown Prince Mohammed bin Zayed.
The opening of the historic meeting in Israel, in the Sde Boker kibbutz in the Negev desert, was marred by a shooting attack on Sunday in northern Israel that killed two police officers and was claimed by Islamic State. ISIS has rarely managed to stage attacks inside the Jewish state.
Mr Blinken's visit to Morocco, followed by Algeria on Wednesday, is expected to focus in part on the threat from ISIS and al- Qa'ida affiliates in the Sahel region, alongside wheat supply shortages stemming from the war in Ukraine.
The talks on reviving the 2015 Iran nuclear deal were high on the agenda at the Negev gathering and in Mr Blinken's meetings with Israeli officials. The EU's foreign policy chief, Josep Borrell, on Monday struck a cautious note on the prospects for restoring the Iran pact quickly, after having signalled over the weekend that a deal could be reached "in a matter of days". "I cannot guarantee that we will reach an agreement," he told the European parliament. "It's not getting to an end." The efforts to revive the deal have raised concern in Israel and among US-allied Arab states, which view Iran as a menace.
An Israeli official, speaking on condition of anonymity, said after the Sde Boker talks: "All countries here except the US have reservations about a nuclear deal with Iran and what happened is that we got them closer to our approach." Mr Blinken on Sunday stressed that Israel and the US "see eye-to-eye" on the core issue of stopping Iran from ever getting a nuclear bomb, despite their differences on the deal known as the Joint Comprehensive Plan of Action (JCPOA).
The UAE and Bahrain forged ties with Israel under the Abraham Accords, brokered by former US president Donald Trump. Morocco then re-established relations with Israel under a separate Trump-brokered agreement. Israeli leaders have argued that the normalisations highlight a changed Middle East, where Arab leaders are no longer compelled to isolate Israel over its ongoing conflict with the Palestinians.
The Abraham Accords infuriated the Palestinians, who argued that they marked a betrayal of a decades-old Arab consensus. A small group of protesters outside the Negev venue waved placards that said "Haven't you forgotten someone?" Iran has repeatedly emphasised that it remains fully behind the Palestinian cause. "Any attempt to normalise and establish relations with the terrorist Zionists and the occupiers of al- Quds (Jerusalem) is a stab in the back" for the Palestinians, Iran's foreign ministry spokesman Saeed Khatibzadeh said.
Mr Blinken has voiced strong support for the Abraham Accords but cautioned they cannot replace Israeli-Palestinian peace-building. "We have to be clear that these regional peace agreements are not a substitute for progress between Palestinians and Israelis," said Mr Blinken, who on Sunday also met Palestinian president Mahmoud Abbas in the Israeli-occupied West Bank.
Mr Blinken says Joe Biden's administration is committed to repairing Palestinian relations, which collapsed under Mr Trump. But the Palestinian leader told Mr Blinken that the West showed "double standards", taking a hard line against Russia's invasion of Ukraine while ignoring what he called Israel's "crimes" against his people.
As the diplomats were wrapped up in their Negev meeting, Mr Abbas hosted Jordan's King Abdullah II, making his first visit to the West Bank since 2017.
Jordan – the only Arab country with full Israeli ties that was not at the Negev meeting – has played a middleman role between Israel and the Palestinians. Jordan's king warned that "the region cannot enjoy security and stability without a just and comprehensive solution to the Palestinian issue", the official Palestinian news agency reported.
Pre-Ramadan terror wave sweeps West Bank
Weekend Australian
Dov Lieber, Wall Street Journal, plus BBC report
Saturday April 2 2022
Tel Aviv On Friday night three Palestinian militants were killed in a gun battle with Israeli security forces near Jenin in the occupied West Bank, Israeli police say. A statement said the Palestinians were on their way to carry out an attack in a car and that they fired on a counter-terrorism unit that was trying to arrest them. Four Israeli troops were wounded in the ensuing clash, one of them seriously.
Also on Friday, a Palestinian man was shot dead during clashes with Israeli forces in the West Bank city of Hebron, the Palestinian health ministry said. The Israeli military said its soldiers opened fire when a suspect threw a Molotov cocktail at them during a riot.
On Thursday another three Palestinians were killed. One was a 30-year-old Palestinian who stabbed and seriously injured an Israeli on a bus near the West Bank settlement of Elazar in the Gush Etzion settlement bloc near Jerusalem according to the Israeli military. An armed civilian on the bus shot and killed the assailant, the military said.
Two were killed in a gunfight during an Israeli raid in Jenin where 15 others were injured, including three seriously from bullet wounds, according to the Israeli military and the Palestinian Health Ministry. The Israeli military said its soldiers came under fire in Jenin as they arrested three people suspected of involvement in an attack by a Palestinian gunman in the Tel Aviv suburb of Bnei Brak on Tuesday, in which two Israeli civilians, two Ukrainian nationals and an Israeli policemen were killed. Before the attack in Bnei Brak, Israeli security forces were already on high alert in response to two attacks in recent days by Arab citizens of Israel with suspected ties to Islamic State.
Jenin has become a centre of Palestinian militancy, with numerous clashes occurring between Israeli forces and Palestinian gunmen over the past year.
On Wednesday (March 30) Israeli Prime Minister Naftali Bennett told civilians in a video message: "Whoever has a licence to carry a weapon, this is the time to carry it." The attacks have come before the Muslim holy month of Ramadan. The month is usually a time of heightened tensions, especially around Jerusalem, where tens of thousands of Muslim worshippers travel to the Aqsa Mosque to pray. Israel earlier this week also hosted a summit of American, Arab and Israeli diplomats aimed at boosting economic and security ties and helping build an alliance against Iran. See the article above.
With the escalation of violence, Israel announced on Wednesday it would significantly boost its security presence in the West Bank and on the border of the Gaza Strip. Israeli police have also suspended normal activities to focus on counter-terrorism.
On Thursday (March 31) far-right Israeli politician Itamar Ben-Gvir visited the Temple Mount in Jerusalem, known to Muslims as the Noble Sanctuary. Such visits, when made as an act of political protest, are seen by right-wing Israelis as affirmation of their right to visit the holiest site in Judaism, but Palestinians view them as provocative and they have led in the past to an increase in tensions.
Israel's government faces crisis after Idit Silman quits
The Australian
Dov Lieber, Wall Street Journal
Friday April 8 2022
Israeli Prime Minister Naftali Bennett's government faces a crisis after a member quit the ruling coalition, leaving it without a majority in parliament less than a year since coming to power.
Idit Silman, the coalition's de facto whip, in a letter to Mr Bennett late on Wednesday, said she was resigning over disagreements about the country's Jewish character. She has clashed with the Health Minister over whether leavened grain products should be allowed in hospitals during the coming Passover religious holiday. In Jewish tradition, such products are removed from public spaces and not consumed during the holiday.
Her resignation leaves the government with 60 members backing it in the 120-member Knesset. The coalition can continue to govern without a majority but it will struggle to pass laws, requiring support from opposition members. With one more resignation, the government could collapse. That would give the opposition a potential majority in a vote to dissolve parliament and send the country to a fifth election in a little over three years.
Still, even if a second coalition member resigns, the opposition would struggle to form its own government without the support of the Joint List, a union of Arab Israeli parties, to dissolve parliament and set up new elections. Political analysts are sceptical that could happen due to the Joint List's animosity toward former prime minister Benjamin Netanyahu, the opposition leader.
While the Knesset is in recess for the next five weeks the opposition would need the government's support to hold a vote to dissolve parliament. Chen Friedberg, a senior lecturer of political science at Ariel University, said it was unlikely the government would dissolve before parliament is back in session.
Israel has held four elections since 2019, with voters divided over whether Mr Netanyahu should rule while on trial for corruption. Mr Bennett came to power in June 2021 after a mix of left-wing, centrist and right-wing parties, including for the first time an independent Arab party, united in their opposition to Mr Netanyahu. The parties' deep ideological differences have created an unwieldy alliance. Members have clashed over West Bank settlements, Palestinians and questions of religion and state.
"Unfortunately, I cannot lend a hand to harming the Jewish identity of the state of Israel," Ms Silman, a member of Mr Bennett's right-wing Yamina party, wrote in her resignation letter. Mr Bennett blamed months of incitement against Ms Silman by Mr Netanyahu for her defection. He said coalition leaders are committed to maintaining the government. "The alternative," he said, "is more elections and then maybe more elections, and a return to the days of dangerous instability to the state of Israel."
If another member of Mr Bennett's bloc defects and a vote is held to dissolve the Knesset, Foreign Minister Yair Lapid would become the interim prime minister under a rotation deal reached when the government was founded.
Polls show Mr Netanyahu's Likud party remains the most popular, especially among right-wing voters, but he lacks a clear majority to form a government of his own. Mr Netanyahu could also form an alternative government without new elections. This, too, would be challenging.
Without the Joint List, Mr Netanyahu has 54 members in his right-wing nationalist camp. He would need to entice at least seven more. Members in Mr Bennett's right-wing and religious party, which numbered seven after elections and is now down to five, are aligned with Mr Netanyahu, but formed an alternative coalition after he failed to get 61 members to support him due largely to his corruption charges.
The crisis comes after a burst of terrorist attacks that has left the government vulnerable to charges from the right-wing opposition that it is weak against terrorism. The opposition could potentially prevail if Mr Netanyahu agreed to yield the prime minister role. So far, he has vowed to continue leading his party. For now, Israeli political analysts believe the current coalition could survive until March 2023, when it needs a majority to pass a budget. Failure to pass it would automatically trigger new elections.
"The only guaranteed thing is we're back in a crisis mode," said Yohanan Plesner, president of the Jerusalem-based think tank the Israel Democracy Institute.
Israeli PM vows no limits after three killed by Palestinian attacker
BBC
Saturday April 9 2022
Israeli PM Naftali Bennett says security forces will have "full freedom" to act after an attack in Tel Aviv killed three Israelis. Two were killed when a Palestinian opened fire on a bar in one of the city's busiest streets on Thursday night. A third died on Friday. The attacker evaded a huge manhunt for hours, before being shot dead in a gunfight in nearby Jaffa.
Israel has been rocked by a wave of attacks which have killed 14 people.
In the latest, Raad Hazem, 28, from Jenin in the occupied West Bank, shot people at the Ilka bar on Dizengoff Street, a main thoroughfare full of restaurants and bars in the heart of Tel Aviv, before escaping. More than 1,000 members of the Israeli police, army special forces and the Shin Bet intelligence service poured into the city centre to try to find him, as police warned residents to stay indoors.
Hazem was found hiding near a mosque in the port of Jaffa, about four miles (6km) away, and was killed in a shootout with counter-terrorism and security agents.
Speaking in Tel Aviv on Friday morning, Prime Minister Bennett said security forces would have free rein to deal with threats. "There are not and will not be limits for this war. We are granting full freedom of action to the army, the Shin Bet [domestic intelligence agency] and all security forces in order to defeat the terror."
"Every murderer knows we will find them, everyone who helps a terrorist should know that they will pay a heavy price."
Shin Bet said Hazem had entered Israel illegally and had no known links to militant organisations.
Palestinian President Mahmoud Abbas condemned "the killing of Israeli civilians", warning that "the killing of Palestinian and Israeli civilians only leads to a further deterioration of the situation", the official Palestinian Wafa news agency said. However, the Palestinian militant group Hamas, which controls the Gaza Strip, and Palestinian Islamic Jihad, praised the attack.
Israeli media reports say Hazem had been sitting outside Ilka bar for about 15 minutes before he opened fire at about 21:00 (18:00 GMT), sparking pandemonium. "I was heading north and as we were passing by a bar shots started," Mark Malfiev, who was injured, told the BBC. "I saw the window shattering, suddenly people started running and I felt a back pain," he said. "I did not know there was an injury. I was just walking and then I felt a lot of blood, I saw blood."
CCTV footage showed people drinking then suddenly dashing away at the moment of the attack, overturning chairs in the scramble to escape. Video from Dizengoff Street showed people running away as emergency vehicles streamed into the area, sirens wailing. The two men killed at the bar were named as childhood friends Eytam Magini and Tomer Morad, both aged 27. A 35-year-old father-of-three, who was one of 12 people wounded, died in hospital on Friday.
US Secretary of State Antony Blinken condemned the attack, adding that Washington stood with Israel "resolutely in the face of senseless terrorism and violence".
Israel's security forces were already on a high state of alert after a spate of deadly attacks in recent days. At the end of last month, five people were shot dead by a Palestinian gunman in an ultra-Orthodox Jewish suburb of Tel Aviv. Days earlier, six people were killed in two attacks by three Israeli Arabs in the northern city of Hadera and the southern city of Beersheba. All the perpetrators were shot dead.
It marks the deadliest period of attacks in Israel since 2006, with fears of further incidents in the lead-up to the rare convergence next week of the Muslim festival of Ramadan, the Jewish festival of Passover and the Christian festival of Easter.
Arab party pulls out of coalition
The Australian
AFP
Tuesday April 19 2022
Jerusalem The Arab-Israeli Raam party has "suspended" its participation in the coalition government of Prime Minister Naftali Bennett, over violence centred on Jerusalem's flashpoint Al-Aqsa compound.
Mr Bennett took office last June after painstaking efforts to cobble together a coalition able to topple Israel's longest-serving prime minister, Benjamin Netanyahu, creating a majority of 61 seats in the 120-seat Knesset.
But the government lost that majority earlier this month when a hard-right Knesset member quit over a government decision to authorise the distribution of leavened bread in hospitals during Passover, in line with a recent supreme court ruling reversing years of prohibition. The coalition, a mix of left-wing, hardline Jewish nationalist and religious parties as well as Raam, both with deep ideological divides, became 60 seats, the same as the opposition.
On Sunday night, Raam – which has four seats in the coalition – said it was "suspending" its support, hours after more than 20 Palestinians and Israelis were wounded in incidents in and around Al-Aqsa, known to Jews as the Temple Mount. "If the government continues its steps against the people of Jerusalem … we will resign as a bloc," it said in a statement.
The party's withdrawal from Mr Bennett's administration will not immediately affect the government, as the Knesset is in recess until May 5.
Sources said Mr Bennett would seek to calm the situation. His coalition can rule with 60 seats, although with difficulty in passing new legislation. But if another member leaves the coalition, the Knesset could hold a vote of no confidence and lead Israel back to the polls for a fifth election in four years.
The latest clashes take the number of wounded since Friday to more than 170, at a tense time when Passover coincides with Ramadan. They also follow violence in Israel and the West Bank starting late last month, in which 36 people have been killed.
Early on Sunday morning, police said "hundreds" of Palestinian demonstrators inside the mosque compound started gathering piles of stones, shortly before the arrival of Jewish visitors. Jews are allowed to visit but not to pray at the site, the holiest place in Judaism and third-holiest in Islam.
Bennett Coalition Becomes Minority (temporarily)
Extract from Haaretz
Tel Aviv
Thursday May 19 2022
Meretz lawmaker Ghaida Rinawie Zoabi announced on Thursday that she is quitting Israel's ruling government, leaving the coalition with 59 of the Knesset's 120 seats. In her resignation letter, Rinawie Zoabi wrote that she had joined the coalition in hopes that Arabs and Jews working together might help bring about "a new path of equality and respect," but that coalition leaders had chosen to take "hawkish, hard-line and right-wing positions."
In the letter, Rinawie Zoabi cited violence at the Temple Mount and the funeral of journalist Shireen Abu Akleh, as leading her to make "a moral decision." Rinawie Zoabi, however, is still serving as a lawmaker in the Knesset. It is still not clear if she intends to vote with the opposition in future votes.
Her departure could significantly damage the government's ability to function. Regardless of how she votes in the future, it's doubtful that her exit will pave the way for opposition leader Benjamin Netanyahu to successfully pass a vote of no-confidence and form his own coalition – as there are not enough opposition members in support of a Netanyahu-led government. However, if the Knesset votes on dissolving the Knesset, Rinawie Zoabi's vote could be the deciding vote that sends the country to an election.
Update Sunday night: After meeting with senior minister Yair Lapid on Sunday, Ms Rinawie Zoabi said she would rejoin the coalition following intense pressure from Arab municipal officials worried about an alternative government that would likely include hard-right figures. "Since I came to serve the local Arab authorities and to bring achievements for the needs of Arab society, I will support the coalition. But I also want that this government will be genuine and attentive to the needs of Arab society," she said. Mr Lapid said "we have put this argument behind us".
Nation Faces Fifth Election in Three Years as Coalition Crumbles
The Australian
Dov Lieber, Wall Street Journal
Wednesday June 22 2022
Tel Aviv: Israeli Prime Minister Naftali Bennett says he will move to dissolve parliament and call for the country's fifth election in three years, marking the end of the most diverse ruling coalition in Israel's history. Mr Bennett said Foreign Minister Yair Lapid, a former news anchor turned centrist politician, would lead the country in the interim period, which could last several months. The two leaders, from opposite sides of the Israeli political spectrum, joined forces last year to oust then-prime minister Benjamin Netanyahu. The prospect of new elections gives Mr Netanyahu, the country's longest-serving prime minister, a fresh shot at regaining power.
The decision ends an unusual period in Israeli politics, when a coalition from the country's centre, right, left and an independent Arab party came together for the first time to form a government. The coalition is now poised to be among the shortest-lived in Israel's history, after marking its first anniversary last week.
The deep ideological differences of the coalition's eight parties created an unwieldy alliance. Members clashed over policies related to West Bank settlements, Palestinians and questions of religion and state. Controlling just 61 of 120 seats in parliament from its outset, the coalition lost its majority in April after a member of Mr Bennett's party resigned.
The date of the next election won't be known until parliament dissolves, but it is likely to take place in late October or early November, an adviser to the coalition said. Analysts said it was unlikely Mr Bennett would backtrack on his election decision despite his Yamina party's slide in the polls. For parliament to dissolve, politicians will need to pass the bill several times. No date has been set for the vote, but the coalition leaders said they would bring it to the plenum floor next week.
Polling in recent months consistently shows that Mr Netanyahu's party will remain by far the largest in parliament, and his popularity remains high among right-wing voters. Polls also show that Mr Netanyahu would likely remain just shy of the majority needed to form a government.
The prospect of another election comes in the midst of increased conflict between Israel and Iran, after a wave of Palestinian attacks in Israel that shook the country's sense of security, and weeks before US President Joe Biden's visit to Israel in July, when he is expected to advance regional security co-ordination between Israel and its allies in the region.
The immediate crisis facing the government was its inability to renew regulations needed to apply Israeli civil law to Jewish settlers in the West Bank owing to opposition from Arab members of the coalition, which angered right-wing politicians. The bill was opposed by Mr Netanyahu, who normally votes to support settlers but marshaled the opposition to vote against it in an attempt to embarrass the government and force it to collapse. If Israel does go to elections, the deadline to renew the regulations would automatically be postponed.
Speaking alongside Mr Lapid, Mr Bennett said he "left no stone unturned" in trying to save his government, but that new elections were the only way of preventing chaos and harm to Israeli security.
Mr Lapid pledged to continue Israel's widening campaign against Iran and militant groups opposing Israel, tackle the increasing cost of living and fight for reform to solve Israel's political instability. He thanked Mr Bennett for "putting the country before his personal interest". "You're a friend and I love you," Mr. Lapid told Mr. Bennett.
Yohanan Plesner, the president of the Jerusalem-based Israel Democracy Institute, said the call for elections "is a clear indication that Israel's worst political crisis did not end when this government was sworn into office". Mr Plesner said that the crisis, which had prevented stable management of the country for three years, stemmed from a split down the middle over Mr Netanyahu's future, and that Israeli law makes it too easy for parliament to dissolve itself. "In governments with a small majority, it turns every backbencher into a kingmaker or into an instability instigator," he said.
Mr Plesner added that by including an Arab party in the coalition, the current government paved the way for a minority that makes up more than 20 per cent of the population to participate more in the political process.
Mr Netanyahu vowed to form a broad national government led by his Likud party. "This is an evening of great news for millions of Israeli citizens," Mr Netanyahu said.
Some politicians once aligned with Mr Netanyahu have pledged to oppose his return to power, saying the former prime minister had used his position for personal interests. Mr Netanyahu is on trial over corruption charges, which he has denied. "The goal in the next elections is clear – preventing the return of Netanyahu to power and enslaving the state for his personal interests," tweeted Gideon Saar, a member of the anti-Netanyahu coalition who was once the former prime minister's ally.
Mr Netanyahu can still run for office despite his trial, which shows no signs of ending soon. Avraham Diskin, a professor of political science at Hebrew University, said Mr Netanyahu's chances of being re-elected were better than in recent elections because the right-wing religious and ultraorthodox parties that support him have grown in strength despite not reaching a clear majority. "The chances of Netanyahu becoming prime minister are more than 50 per cent, but it's still not guaranteed," he said.
Mr Netanyahu had kept the opposition disciplined throughout the year, forcing the government to lose key votes and appear unstable. At the same time, he led a simultaneous pressure and wooing campaign against right-wing politicians in the coalition.
If Mr Netanyahu fails to get a clear majority, he might face a rebellion in his own party, Professor Diskin said, because right-wing politicians opposed to Mr Netanyahu had said they would form a government with the Likud party if someone else was leading it. "The rebellion against Netanyahu within the Likud can definitely occur. And once you have a rebellion everything is open," he said.
Click here for news on Iran reported 24th May 2022.
** End of article