Macron visits Putin with a peace plan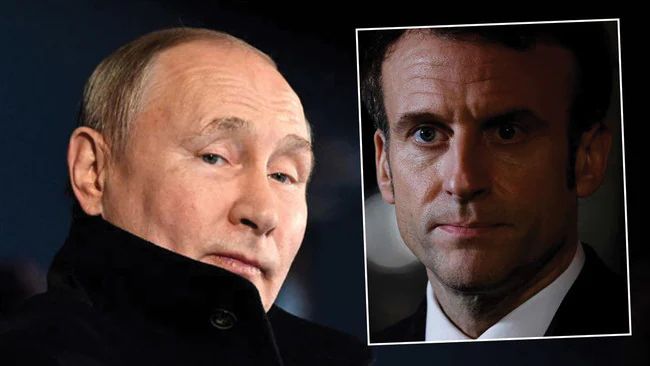 Vladimir Putin, left, and Emmanuel Macron. Pictures: AFP
French President Emmanuel Macron, right, met Russian President Vladimir Putin at the Kremlin for talks to defuse the situation along the Ukraine-Russia border. Picture: AFP

The striking table, which is 6m long, has become a feature of Mr Putin's meetings with foreign leaders after the months that he has spent in virtual isolation because of the pandemic. He typically requires anyone meeting him to quarantine for two weeks ­beforehand, a fact that has kept him insulated even from many of his own advisers as the crisis over Ukraine has unfolded.
By Charles Bremner, Alistair Dawber and Bruno Waterfield
The Times
Monday February 7-8th, 2022
President Macron offered President Putin a peace plan including western gestures towards Moscow when he visited the Kremlin for nearly 6 hours Monday evening on a mission to ease tension over Ukraine. The French leader outlined his ideas for a "new security order in Europe" as the United States stepped up its warnings of an imminent invasion, saying that as many as 50,000 civilians could be killed and that the Kyiv government would collapse within 48 hours.
Macron's attempts to broker a diplomatic solution are worrying Washington, London and other more hawkish NATO capitals but they are in tune with the thinking of Germany, whose chancellor, Olaf Scholz, is in Washington Monday to face American unhappiness over his country's failure to take a tougher stand against Russia's military build-up.
Setting out his hopes of "de-escalating" the dispute, Macron, whose country currently heads the EU, distanced himself from the US view that the troop build-up was a prelude to invasion. "The geopolitical goal of Russia today is clearly not Ukraine but to clarify the rules of cohabitation with NATO and the European Union," he told Le Journal du Dimanche. It is "urgent to advance towards a new order which our Europe needs profoundly and which rests on the cardinal principle of sovereign equality among states," he said.
Macron said Europe and NATO could guarantee the sovereignty of their former Soviet bloc members while giving Moscow assurances that its security worries had been taken into account. "We must protect our European brothers by offering a new balance that can preserve their sovereignty and peace. At the same time this has to be done while respecting Russia and understanding its modern traumas," he said. It was now Europe's responsibility to "build an historic solution", he added. "I believe President Putin is available for this."
Russia was within its rights to seek to negotiate security guarantees, he said. "The security and sovereignty of Ukraine or any other European state cannot be a subject for compromise, while it is also legitimate for Russia to pose the question of its own security." He was referring to Russian demands that NATO commit itself never to make Ukraine a member and also to recognise that Russian interests must be a factor in the security arrangements of former Warsaw Pact countries now in western alliances. NATO has rejected the demands as non-starters.
Macron, who is pursuing an independent French policy initiated by President de Gaulle in the 1960s, wants to build on a concept called "indivisible security" that was enshrined in the 1975 Helsinki accords that opened the way to détente with the Soviet Union. The expression meant that all states in the region recognised that the security of each one was inextricably linked with the security of all the others. Western governments note that Macron's talk about a new security order is close to the language used by the Kremlin in its demands for a complete reset of the European security system.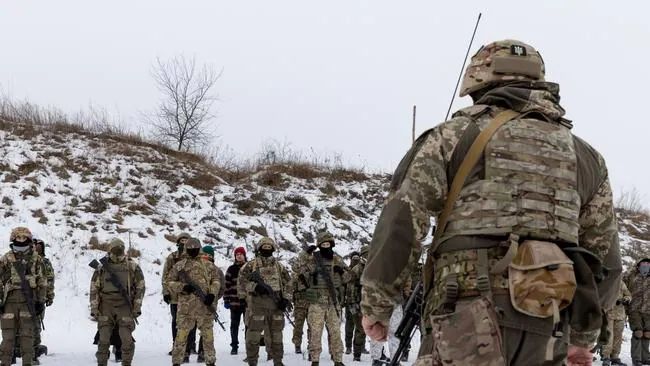 Civilians participate in a Territorial Defence unit training session on February 5 in Obukhiv, Ukraine. Picture: Chris McGrath/Getty Images
Macron's enthusiasm is not shared by the United States, the eastern Europeans or conservatives in Germany, who on Sunday accused the Social Democrat chancellor of feebleness in the face of Russian aggression. "I'm amazed at how badly this government is doing," Friedrich Merz, 66, the leader of the Christian Democrat opposition, told the Bild am Sonntag newspaper.
The US forecast of casualties in the event of a Russian invasion was its most chilling assessment yet. Jake Sullivan, the national security adviser, said yesterday (Sunday) Russia could invade "any day" and that "if war breaks out it will come at an enormous human cost to Ukraine, but we believe that based on our preparations and our response, it will come at a strategic cost to Russia as well."
The US has also been at loggerheads with the Ukrainian government, with Kyiv dismissing claims by US officials that the 100,000 Russian troops stationed on Ukraine's border could invade at any moment. Mykhailo Podolyak, an adviser to President Zelensky of Ukraine, said "the chance of finding a diplomatic solution for de-escalation is still substantially higher than the threat of further escalation".
However, Europe has become highly dependent on Russian oil and gas, after turning off its nuclear and coal, and gas-fired power plants.
** End of Page