Click on map to Drill Down to a Larger map of Israel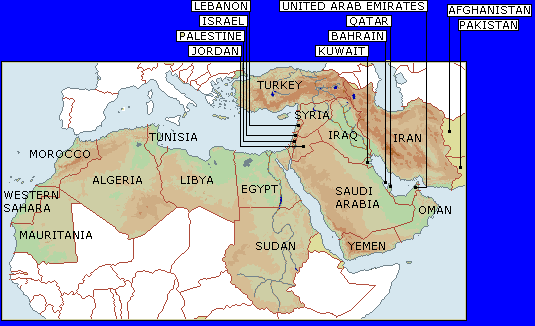 www.mideastweb.org/middle_east_map.gif
Egypt-Iran war of words flares
Weekend Australian
Abraham Rabinovich, Jerusalem
Saturday, April 25, 2009
TENSION between the two major Muslim powers in the Middle East have resulted in unprecedented rhetoric, with Egyptian President Hosni Mubarak warning Iran of Cairo's wrath if it tries to undermine Egyptian security interests. Mr Mubarak did not name Iran in his speech but his point was clear when he said he would not tolerate the intervention of regional powers hostile to peace and aiming to drag the region into the abyss.
Two weeks ago, Egypt announced the arrest of 49 people described as agents of Hezbollah, the Lebanese militant group regarded as a proxy for Iran. Egyptian officials said the men were seeking to destabilise Egypt by carrying out attacks on Israeli tourists, firing on ships in the Suez Canal and smuggling armaments from Egypt to the Gaza Strip. Cairo newspapers, which often reflect government views, attacked Hezbollah leader Hassan Nasrallah.
To widespread surprise, Mr Nasrallah confirmed the Lebanese national accused by Egypt of heading the planned operation in Egypt was a Hezbollah representative. However, he said, Hezbollah had done nothing to compromise Egyptian sovereignty and intended only to assist the Palestinians in Gaza. Mr Nasrallah attacked Egypt for not trying more vigorously to stop the Israeli attack on Gaza in January and for trying to block the smuggling of weapons from its territory into Gaza, at the urging of Israel and the US.
Egyptian officials say Cairo has no intention of engaging in provocation that could lead to another war with Israel. The pan-Arab newspaper Asharq al-Awsat reports that Iran, according to an Egyptian source, is trying to foment instability in Egypt to divert international attention from Tehran's nuclear program. The state-owned daily al-Gomhouria called Mr Nasrallah a monkey sheik. The editorial addressed Mr Nasrallah: "Every Egyptian knows you are an Iranian agent. Are there instructions from Iran to drag Egypt into a conflict?"
Egypt and Iran have not had diplomatic relations since 1979, when Egyptian president Anwar Sadat hosted the deposed Shah after the Islamic revolution in Iran.
Also that same year, Sadat signed a peace treaty with Israel, an act which led directly to his being assassinated in 1981 - Steve
To Egypt's fury, a main street in Tehran was named, a few years later, after Sadat's assassin.
** End of article