About Me
Music: the Guinness World Record (of records)
TV including two favourite scripts with Peter Cook (one with Rowan Atkinson, the other with Dudley Moore)
Books, and Heroes
Mum and Dad are from London in England. My Dad was the youngest son in a huge family. Both Dad's parents were on the music hall stage. My Dad's father — a natural entertainer — opened an open fronted shop for lace curtains in Lewisham in 1912 and then for 25 years until he passed away became known through South London as Little Jim, the "Curtain King"

. Then the war came and Dad (and Mum) separately joined the RAF. After the war they met and married, and I was born in Hastings over there in 1951. We all moved to Brisbane Australia in 1956 when I was four. Dad obtained work as a salesman for National Cash Registers (NCR) and we moved to various towns — Lismore, Rockhampton, before our family settled in Brisbane when I was 12. Then, after leaving home at 19, I also moved around, mainly doing computer programming with different firms, and with many different housing and community-style living arrangements over the years — Ayr and Townsville in North Queensland, a short time in Sydney, 2 months in America (in 1979), then a full year in Sydney in 1983 where my first son David was born — early morning when that race began where Australia won the America's cup

click here for some of the news articles. But, while travelling a lot, it seems my life has always centred around Brisbane. And I love this picture of our city. Click to open its page.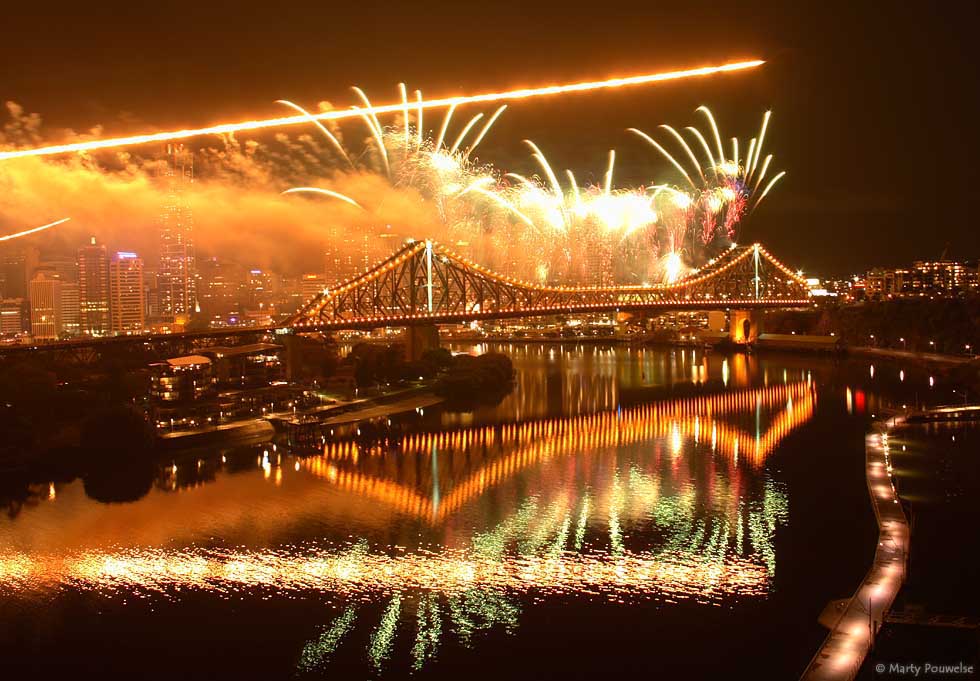 Click here for a short date line brisbanehistory.htm
For more info, visit aboutus.asp
Music
Have absolutely loved playing records. Bought "A Hard Day's Night" on my 13th birthday in 1964 costing me £2.12s.6d and I think it was the most money I'd ever been given — then spent. But I developed a huge record collection particularly from the 1966-1973 era. In 1974 I was awarded the Guinness world record title for non-stop disc jockeying during Christmas 1973. Working with a Methodist Church (since 1977 Uniting Church) leadership team in Brisbane we contacted management at Sundale Shopping Centre on the Gold Coast who set me up on a specially constructed stage in front of the 4GG sound booth. Next with the assistance of Gold Coast radio station 4GG we contacted EMI Records Australia who then sponsored my effort as part of a worldwide 75th birthday celebration. And so during my annual leave from work with a crowd of supporters and bemused shoppers I disc jockeyed for 3weeks 2days 3hours while promoting "Quo Vadis" — a bunch of coffee shops that had been set up on the Gold Coast that Christmas. They were "drop in" centres sponsored by local churches — the God Squad in Melbourne — the House of the New World in Sydney — the House of Freedom in Brisbane — the Jesus family in Ipswich — and various other bods. Interestingly though after I had broken the world record of records

and decided to stop playing (New Year's eve at the start of 1974) I found I had less "compulsion" to want to put on another record. Life is interesting innit

?
Click here for further details (and some photos of the effort including the Guinness announcement).
Some Favourite Songs
Incidentally, most of you know this, we strongly recommend you don't respond to any "conversation" that someone from "Google AdWords" may attempt to initiate with you while one of these videos are playing

Movies
Click here for Hoyts, Greater Union (Event Cinemas) and Cineplex Australia, an Australian Cinemas timeline.
Many of Brisbane's inner-city cinemas closed between 1965 and 2001. First to go was the Tivoli Roofgarden in 1965, then the Wintergarden in 1973, Odeon in 1976, Regent in 1978, Paris in 1980, George in 1991, then Albert and Forum Cinemas in 2001.
Click here for the history of these cinemas.
Click here for cinemas open in 2019.
Click here for Event Cinema (at Garden City)

Click here to see my movies page.
Favourite movie scripts: Wayne and Schuster's "Rinse the Blood off my Toga" and Abbott and Costello's "Who's on First". Favourite movie performances: Danny Kaye Angela Lansbury and Basil Rathbone in "The Court Jester". Anthony Hopkins in "Meet Joe Black". Hugh Grant in "About a Boy" and "Music and Lyrics". Julia Roberts in "My Best Friend's Wedding". Also "The Great Race" "Field of Dreams"
"That Thing You Do"
"Bend it Like Beckham"
"Back to the Future (first one)" "The Matrix (first one)"
"Sunshine on Leith"
"Rocketman" - Elton John. Music is great. Click link for a more accurate timeline (and some corrections to the storyline).
Television
Click here for two of Peter Cook's most famous skits – "The End of the Age" with Rowan Atkinson (Mr Bean), and "One Leg Too Few" with Dudley Moore.
in the Australian Idol 2004 series — along with the judges (Marcia Mark and Ian) hit a great though at times volatile chemistry — Brilliant.
Books
I have 3 children. Loved reading to them around the dinner table: Dr Cooper series — Frank Peretti (first 4 books) Tom Merry and Co — Frank Richards. Also loved reading to them one on one: Narnia series — CS Lewis as well as The Hobbit and Lord of the Rings — Tolkien.
Heroes
CS Lewis and Watchman Nee (for staying true to themselves).
And those passengers on United Flight 93 (click here).
** End of page