Westfield Garden City
and Event Cinema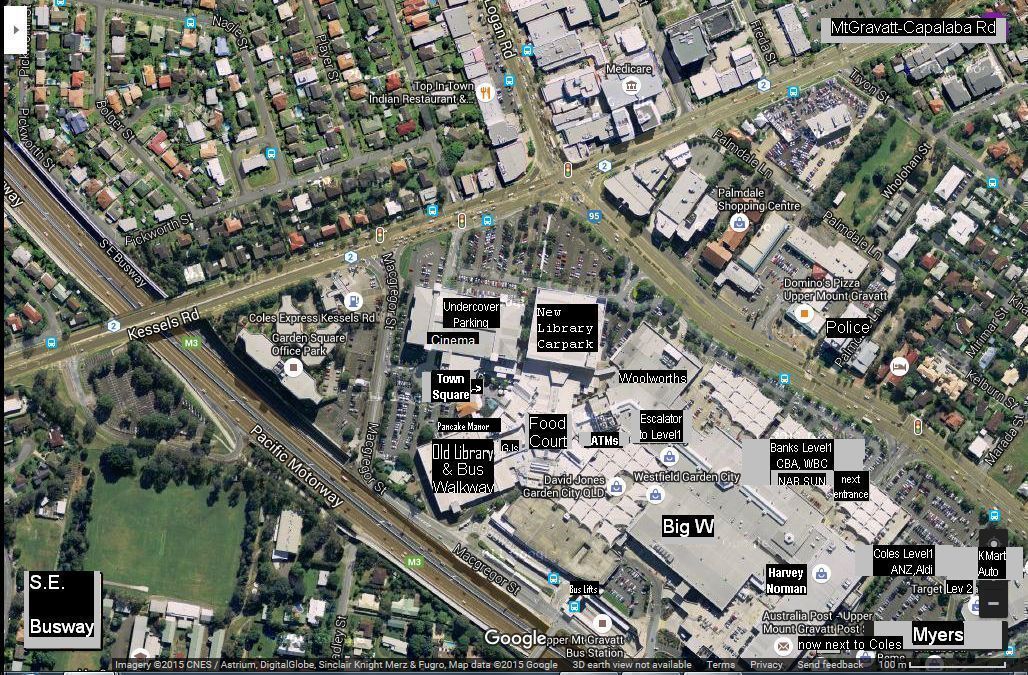 Steve's address during the day (pretty much for the past 15 years), **Gloria Jeans (GJs) just near the FoodCourt on Level 2 i.e. the upper level.
** Renamed Revamp Coffee Bar in May 2019. Since the COVID-19 shutdown / reopening, spending time in various café's, wherever I find a seat.

Click here for a Centre Map, Westfield Garden City, 2049 Logan Road (cnr Kessels Road and Mt Gravatt-Capalaba Road), Upper Mt Gravatt, Qld 4122.
Click here for Garden City Centre Trading Hours.
Click here for local bus timetables.
Click here for some local churches and service times prior to the COVID-19 shutdown weekend that occurred 14-15 March 2020.
Mount Gravatt TAFE 1030 Cavendish Road Bus Route 180
Some other local landmarks nearby
Souths Rugby League Sports Club also Junior league club, Bowls Club, and two soccer clubs. Bistro Lunch 11am-2pm Dinner 5pm-8pm (8.30pm Friday and Saturday).
174 Mortimer Rd Acacia Ridge - Go down Kessels Road, turn left onto Beaudesert Rd, right onto Mortimer Road after Boundary and Kerry Roads.
Club Southside Cafe opens 9am. Restaurant Lunch 11.30am-2pm Dinner 5.30pm-8.30pm.
76 Mt Gravatt-Capalaba Rd (on left directly opposite Tryon Street).
Southern Cross Sports Club also home of Mt Gravatt Vultures Australian Football Club (AFL) and Mt Gravatt Hawks Soccer Club. Lunch 11.30am-2pm Dinner 5.30pm-8.30pm.
Corner of Klumpp Road and Logan Road.
Newnham Hotel Meals 11:30am to 2:30pm and 5:30pm to 8:30pm, with all day dining Friday to Sunday.
516 Newnham Rd on right hand side travelling south to north between Naples and Delavan Streets.

Further Links to various local landmarks on Logan Rd, including my home address, driving from south to north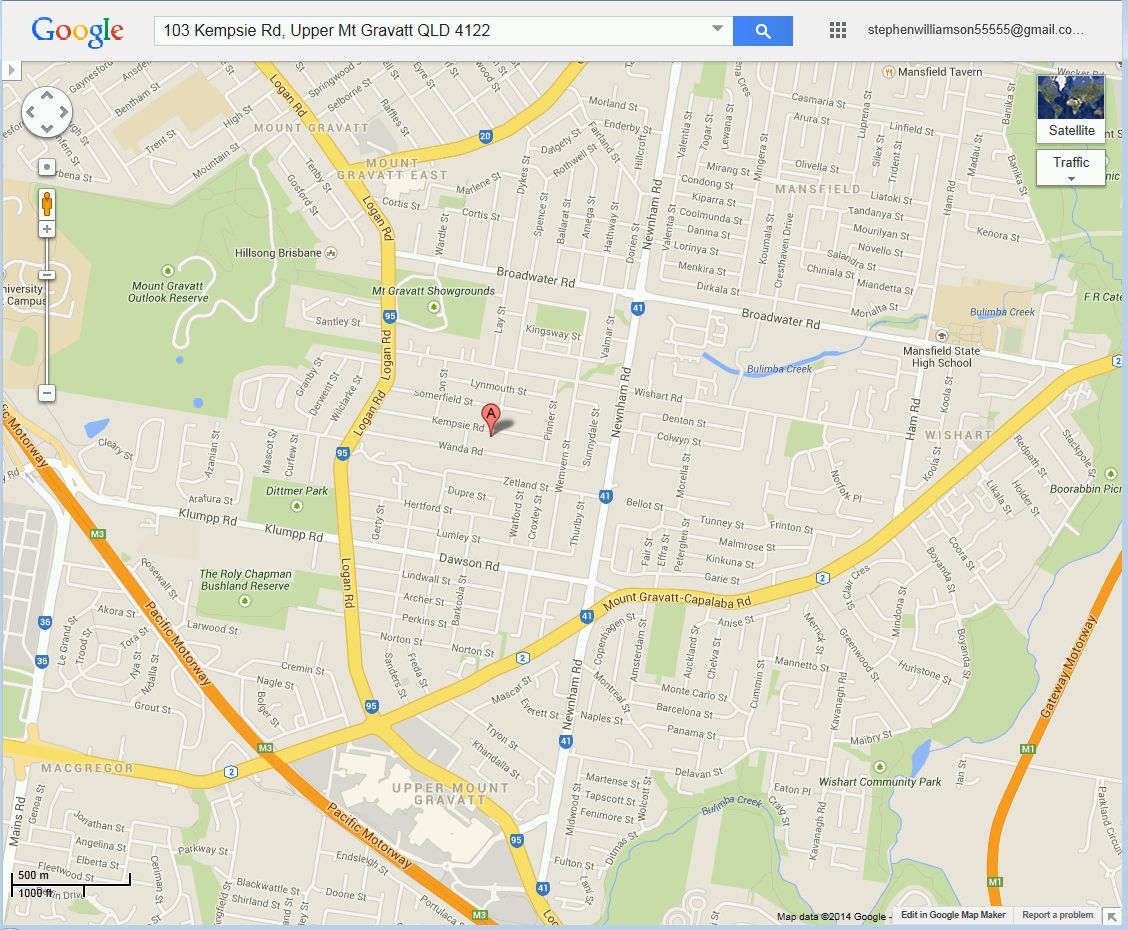 Click here for this Google link.
Just south of Garden City on 28 MacGregor Street is the Australian Taxation Office building. Click here for this Google link, which also shows the MacGregor State High School on the left, Bleasby Street in the south, and the start of Newnham Road, where MacGregor Street meets Logan Road. Please note that the Taxation Office building no longer serves the general public.
Bank of Queensland, 1932 Logan Road RHS
The Village Shopping Centre, between Bank of Queensland and Southside Toyota RHS
Southside Toyota, 1922 Logan Road RHS
Ray White Real Estate, 1921 Logan Road LHS
Upper Mt Gravatt State School, 1899 Logan Road (note, parking in Cremin Street) LHS
McDonalds, 1912 Logan Road RHS
Pizza Hut and ATM, 1888 Logan Road RHS
Upper Mt Gravatt Progress Hall, 1873 Logan Road LHS
Mt Gravatt Bowls Club, between Progress Hall and Mt Gravatt Park, also 1873 Logan Road LHS
Envisage Dental, 1858 Logan Road RHS
Mt Gravatt Park, 1837 Logan Road LHS
St Bernards School, 1823 Logan Road LHS
St Bernards Catholic Church, 1825 Logan Road LHS and corner of Klump Road
I-MED and Mt Gravatt Medical Precinct, 1808 Logan Road RHS
TriCare Aged Care, 1748 Logan Road RHS
Dental Specialists and Other Shops, 1722 Logan Road RHS and corner of Kempsie Road

Mt Gravatt Showgrounds, 1644 Logan Road, Mt Gravatt RHS
Hillsong Brisbane, 16 Rover Street (just off Logan Road), Mt Gravatt LHS
Mt Gravatt Plaza 55 Creek Road (Cnr Logan Road), Mt Gravatt RHS
Mt Gravatt State School 1263 Logan Road (just north of this map), Mt Gravatt LHS click here for a Google link.
** End of page