Extract: Why Microsoft Is Ruling The Cloud in 2018, IBM Is Matching Amazon, And Google Is $15 Billion Behind
Feb 5, 2018
Bob Evans
www.forbes.com
Go to an update in 2021, now including Ali Baba in China
(Note: After an award-winning career in the media business covering the tech industry, Bob Evans was VP of Strategic Communications at SAP in 2011, and Chief Communications Officer at Oracle from 2012 to 2016. He now runs his own firm, Evans Strategic Communications LLC.)
While Google Cloud Platform is showing huge potential, it's far behind revenue leaders Microsoft, Amazon and IBM in the Cloud Wars.
For calendar 2017, the seven biggest enterprise-cloud vendors — Microsoft, Amazon, IBM, Salesforce, Oracle, SAP and Google — posted cloud revenue of $76.3 billion, as compiled from those companies' publicly available earnings results.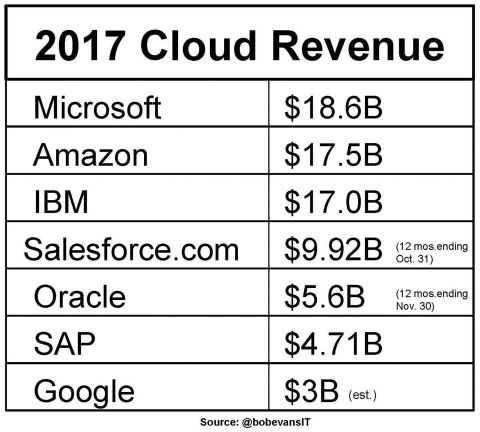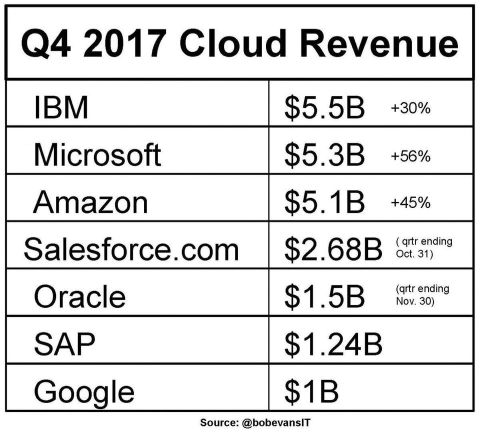 Google Cloud Platform's achievement of $1 billion in Q4 revenue is outstanding — but it's also a clear indication that Google, for all of its astonishing technological and financial resources, has not until recently taken this market seriously. While the longtime media trope has been that SAP and Oracle have been "late to the cloud," these numbers reveal that if any of the major cloud vendors truly deserves to have to wear a T for tardy, it is Google. Now that Diane Greene and company have things on track, it will be most interesting to see how GCP fares in the Cloud Wars in 2018 and beyond.
So, let me conclude with a couple of thoughts on each of these leading enterprise-cloud vendors as they jointly escalate the Cloud Wars here in early 2018 to the very great benefit of business customers.
Some Definitions SaaS Software as a Service IaaS Infrastructure PaaS Platform
Microsoft is all about the hybrid cloud, and it's a subject that CEO Satya Nadella returns to relentlessly, citing his company's success in the cloud as being due to its creation of aggressive deployment of its architectural advantage in seeing no big difference between on-premises technology, cloud technology, and IoT edge technology.
Amazon is doing terrific work on many fronts, and were it not for Microsoft above it and IBM just behind it, Amazon would deserve all the hosannas the media loves to lavish upon its cloud business. But reality often intrudes on rickety narratives, and if Amazon wants to remain a top-tier cloud powerhouse, it must increase its presence in the higher-value realms of PaaS and SaaS.
IBM has not only created an "as a service" cloud business approaching $10 billion, but it has also exploited with great success its "power of incumbency" among the world's largest corporations by offering hardware, software and consulting services to help those customers convert their legacy systems into cloud or cloud-compatible environments. That's become a $7-billion business for IBM with some outstanding customer use cases.
Salesforce continues to be unique (as if a company run by Marc Benioff could be anything else), innovative, and fast-growing. Having hit $10 billion, Benioff is hell-bent on getting to $20 billion in just a few years, but he and his company will have to continue finding new revenue categories, notably in the platform area.
Oracle has a fast-growing SaaS business accounting for about 75% of its total cloud revenue, but chairman Larry Ellison has said many times that he believes Oracle's PaaS business will become even bigger than its SaaS business, particularly as the database-as-a-service offering gains momentum among customers. Ellison also believes Oracle's advanced IaaS technology can snatch huge chunks of share from Amazon.
SAP's power of incumbency is centered on being and having been the world's leading supplier of enterprise applications for many, many years, giving it a great opportunity to help those trusting customers pivot as much of that on-premises technology as possible over to the cloud. SAP's still working through some of that massive end-to-end transformation to the cloud, and when that process is complete it will be an even more formidable competitor than it is now.
Google is, well, Google, and it's got not only tons of technical chops and tons of money to invest but also, at long last, a concerted sense of purpose and will towards becoming a very serious player in the enterprise cloud. It's starting from pretty far back in the pack, but never count out a company whose name has become a verb.
Update
Cloud computing in 2021 has become the de facto choice of IT due to digital transformation shifts accelerated by remote work and the COVID-19 pandemic. Here's a look at how the cloud leaders stack up, the hybrid market, and the key SaaS players.
Click here for this report in April 2021 from ZDNET by Larry Dignan
Amazon Web Services: The leader in IaaS and branching out
At re:Invent 2020, a virtual conference, new Amazon CEO Andy Jassy took aim at Microsoft Azure in his keynote as well as Oracle and touted an AWS annual revenue run rate approaching $48 billion.
Microsoft Azure: A strong No. 2, hybrid player and enterprise favorite
The cheap and easy storyline is that Microsoft Azure and AWS are on a collision course to be the top cloud service provider. The reality is that the two foes barely rhyme.

Here's why:

There is still no publicly available data on Azure sales. Azure is the part of Microsoft's cloud business that most rhymes with AWS, but is buried in the commercial cloud.
Commercial cloud is a roll-up of multiple services from Microsoft. Enterprises are likely to buy a buffet that includes Azure but isn't totally focused on it. That said, Microsoft commercial cloud annual revenue run rate is closing in on $70 billion.
Microsoft Azure benefits from its software-as-a-service footprint. The reality is that we could easily take Microsoft out of the IaaS category and put it in the SaaS section since most of the revenue is derived from Office 365, Dynamics, and a bevy of other cloud services that are software-based over infrastructure.

Google Cloud Platform: A strong No. 3 with a $11 billion annual revenue run rate

Google Cloud Platform has been building out partnerships with key enterprise players such as Salesforce, Informatica, VMware, and SAP. The company is also combining its G Suite and Google Cloud sales efforts.

Alibaba Cloud: The primary cloud option in China
If your company has operations in China and is looking to go cloud, Alibaba is likely to be a key option.

Alibaba's cloud annual revenue run rate is nearly $10 billion exiting its most recent quarter. Perhaps the most notable disclosure was that 59% of the companies listed in China are Alibaba Cloud customers.

IBM: Big Blue looks to its $34 billion Red Hat purchase to juice hybrid cloud deployments and growth. Total cloud revenue in 2020 was $25.1 billion
plus Dell/VMware, Hewlett Packard, Cisco, Salesforce, Oracle, SAP, Workday, Adobe, ServiceNow
** End of page