West Bank Areas A,B,C including Bethlehem, and East Jerusalem Residents
Situation in 2020
Ever since the siege at the Church of the Nativity in Bethlehem in 2002, Bethlehem in the West Bank has been cut off from Israel via checkpoints and a high wall, with its building started back in 2003. An exception however was made for Rachel's Tomb north of the wall, which is seen as part of Israel's ancient heritage.
Following Extracts from https://www.welcometopalestine.com
Area A
Area A comprises approximately 18% of the West Bank and is under Palestinian political and military control. It contains the major cities, and their environs, Ramallah, Bethlehem, Nablus, Jenin, Tulkarem, Qalqilya, Jericho and 80% of Hebron, with no (apart from Hebron) Israeli settlements. While Israeli citizens are not allowed to enter this area, since 2002 Israeli armed forces have conducted raids, often at night. Gaza is also categorised as being an area A zone. Even though the Palestinians in this area are "free" to travel they must pass through Israeli checkpoints to reach neighbouring towns/cities or to leave the country. Palestinians do not have their own airport or seaport.
Extract from www.tripadvisor.com.au
Can someone with an Israeli passport visit Bethlehem?
The greater issue is not getting into Bethlehem - you can simply show your US passport and there is not much checking done - but when you want to return to Jerusalem you need to show your visa and prove you are a tourist or whatever other status that allows you to enter Jerusalem - anyone travelling with an Israeli passport will not have a tourist visa and that is when you will run into problems. I can understand that this may not make sense to you and your party and that you want to experience your entire trip together but this is the situation and it is best to split up for this part of your trip.
Be aware also, that they really do check for Visas before allowing you back into Israel proper. A few months ago there was a young man who misplaced his Blue Visa. He had some difficulty being allowed back into the country.
---
AREA B
Area B comprises approximately 22% of the West Bank and is under Palestinian civil law yet shares security responsibilities with Israel. In reality, Israel holds complete military control over this area, with limited cooperation from Palestinian police. This area covers the vast majority of Palestinian agricultural land with approximately 440 Palestinian villages and no Israeli settlements. Areas A and B are often called the "islands" as they are separated by Israeli-only infrastructure and the settlements in Area C.
AREA C
Area C comprises approximately 60% of the West Bank and is under almost complete Israeli control. This area contains all (apart from in Hebron) Israeli settlements and settler roads, with large buffer zones around them. The PA is responsible for providing education and medical services to the approximately 300,000 Palestinians in over 500 villages and towns. This does not include the approximately 20,000 who live in Bedouin communities.
Israel also holds full control over building permits and zoning laws. According to John Kerry, previous U.S. Secretary of State, area C is effectively restricted for any Palestinian development. In 2014, Kerry's office recorded that only one building permit had been granted to Palestinian residents of the area. Palestinian accommodation is therefore much poorer, on average, than their Israeli counterparts. Many Palestinians live in fear of having their homes demolished as they did not receive the appropriate permit.
Area C also holds most of the West Bank's natural resources. Nonetheless, more than 70% of Palestinian villages in the area are not connected to the water grid, while all settlements come with every basic amenity. In 1972, there were 1,000 Israeli settlers living in area C, now there are at least 360,000 living in 125 settlements and around 100 outposts. Settlers face lower tax rates and generous grants by the Israeli government if they move into the settlements.
East Jerusalem:
Jerusalem was always the capital of the Palestine region, during both Ottoman and British rule. During the 1948 Arab–Israeli War, Jerusalem was contested between Jordan and Israel. At the cessation of hostilities, the two countries negotiated a division of the city, with the eastern sector coming under Jordanian rule, an arrangement formalized in the Rhodes Agreement in March 1949. However, like the West Bank, East Jerusalem has been occupied by Israel since 1967 – the occupation is "illegal" according to declarations in the United Nations. In 1980, the Knesset declared Jerusalem to be the unified capital of Israel, effectively annexing it. This was not recognised by much of the international community. In 2000, the Palestinian Authority passed a law stating Jerusalem to be their capital. For much of the international community, Israel's de facto capital is still seen as Tel Aviv and Palestine's de facto capital is Ramallah.
In 2020, around 220,000 or 39% of all East Jerusalem residents are Jews living in settlements or previously-owned Palestinian homes. The Palestinian residents are allowed to travel throughout Israel, are under Israeli military and civil control, but as they have not become Israeli citizens they can not vote in national elections.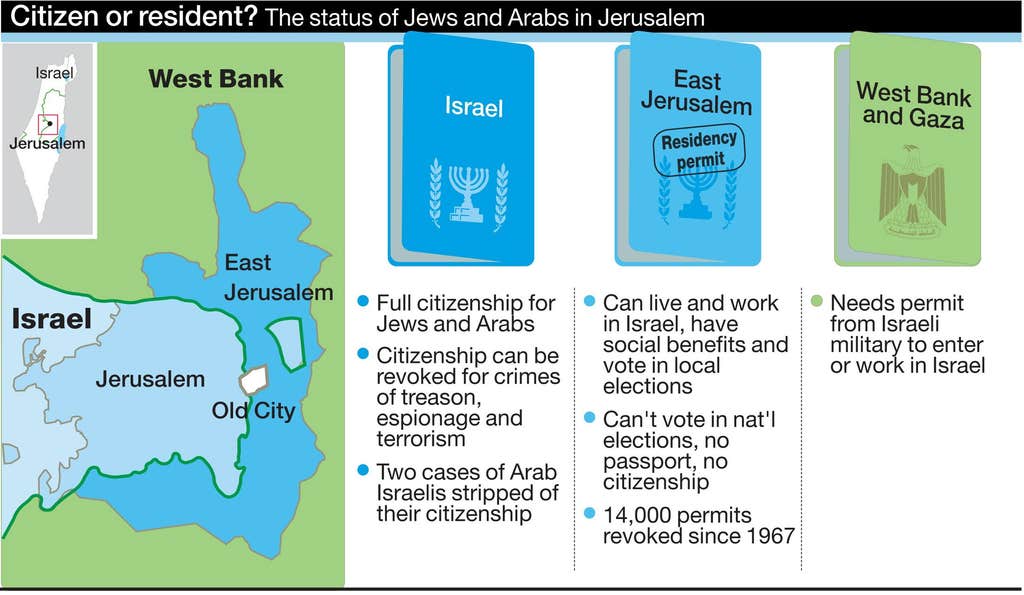 Who Are East Jerusalem's 'Permanent Residents'?
Ariel David
Published haaretz.com on 09.12.2014 | 10.04.2018
When Israel annexed East Jerusalem following the Six-Day War of 1967, it granted the inhabitants of the newly captured neighborhoods permanent residency status and offered them citizenship.
At present, according to the Central Bureau of Statistics, out of a total population of 815,000, there are now some 300,000 Arabs in Jerusalem. Only 12 percent of them have Israeli citizenship, the Interior Ministry reports. Obtaining citizenship demands various procedures like swearing allegiance to the Jewish state and showing some knowledge of Hebrew, but rights groups say the main problem is the social taboo surrounding such a move: Palestinians feel that the process implies recognizing Israel's sovereignty over East Jerusalem, which they claim as capital of their future state.
That is why most East Jerusalemites continue to live in the city as permanent residents, the same status afforded to non-Jewish foreigners who move to Israel (Jewish immigrants can easily obtain citizenship thanks to the Law of Return).
Permanent residents are issued the same blue ID card as Israelis, which allows them to live and work anywhere in the country, grants them social benefits and health insurance, and gives them the right to vote in local elections – although most Palestinians boycott the polls for the same reason they refuse to go through the citizenship process.
Unlike full citizens of the country, they cannot vote in national elections, have no passport and, as Palestinians, they remain stateless. "They live in a legal no-man's land," says Steven Beck, director of international relations at the Association for Civil Rights in Israel.
The status of these individuals is similar to that of the Druze living in the Israeli-annexed Golan Heights: The latter have permanent residency and largely refuse to take Israeli citizenship but, unlike Jerusalem's Palestinians, they are officially considered Syrian nationals.
The blue ID card offers East Jerusalemites undoubted advantages compared to Palestinians from the West Bank and Gaza Strip, who have green ID cards issued by the Palestinian Authority in coordination with Israel. Holders of those cards need a permit from Israeli military authorities to enter or work in the country, and must go through long lines at army checkpoints. For residents of Gaza, which is almost completely sealed off, permits are granted even more rarely and usually only for humanitarian or religious reasons.
A Palestinian rift
The difference in rights between East Jerusalem Arabs and their West Bank neighbors has created rifts between the two Palestinian communities and can greatly influence the daily lives of their members, Beck explained in a telephone interview with Haaretz.
For example, when a Palestinian from East Jerusalem marries a Palestinian woman from outside the city, the couple will often have to move to the West Bank, as Israel rarely grants family-reunification requests, he said.
Despite its name, the residency permit is also not necessarily permanent. Figures compiled by the B'Tselem human rights group show that since 1967 Israel has revoked the residency of more than 14,000 Palestinians, often without warning. While links to terror groups have prompted such a step in the past, most revocations were done because the person had moved for a period to the West Bank or had gone to study or work abroad.
The number of cases in which residency has been rescinded has fluctuated wildly over the years, in keeping with oscillating Israeli regulations. According to B'Tselem, between 1995 and 2000, people who had not lived in the city for the previous seven consecutive years lost their residency, even if they had periodically returned. Following a petition to the Supreme Court, this policy was amended.
In response to a request from Haaretz, the Interior Ministry said that currently permanent residency status "expires" only if a person has lived abroad for more than seven years without returning.
Citizenship is also not exactly permanent, as the law allows for it to be revoked in cases of treason, espionage and terrorism. According to ACRI attorney Oded Feller, only two Arab Israelis have been stripped of their nationality on this basis.
Human rights groups strongly oppose revocation of residency or citzenship even in the cases of those who commit even the most heinous crimes. "Residency status and social security benefits are not a favor granted by the authorities," B'Tselem said in a statement last week. "It is Israel's fundamental obligation toward all individuals living within its territory, be they citizens or permanent residents. As long as Israel considers East Jerusalem part of the country, it cannot eschew these obligations, and they remain in effect even when citizens or residents break the law." The organization also condemned measures taken "against the innocent family members" of people who have broken the law.
The Interior Ministry declined to comment further on the government's steps in this regard, referring reporters to remarks made recently by Gilad Erdan, who was at that time Minister for the Interior. Following his decision to deport the wife of one of the synagogue attackers, the minister stressed that such moves constitute a deterrent. "Everyone who is involved in terrorism must take into consideration that there are liable to be consequences for his family," Erdan said.
** End of Page